Welcome to WebOrthoDiscount.com!
We carry a wide variety
of orthodontic products at the absolute lowest prices. Featuring
metal brackets, prewelded molar bands, nickel titanium and stainless
steel wire, and a wide variety of elastomeric products- all orders are
shipped within 24 hours from one of our many distribution centers.
2 Day Shipping :
Most packages will reach you in just 2 days!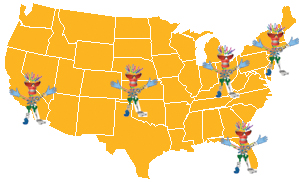 Multiple Locations :
With 5 shipping locations, all product
is delivered within just a day or two! We stock all our
products, so if it is in stock you will receive it FAST...